It's been an exhilarating and transformative decade for the Co-Founder of ARCG Media celebrating, Rob Aurelius, who has embarked on a journey filled with remarkable achievements, inspiring moments, and a deep-rooted commitment to uplifting others. As the company commemorates its 10th anniversary, we had the privilege of catching up with the visionary behind ARCG Media, who took us through a heartwarming account of their path to success. Based in New York, the digital marketing agency helps sports, media, entertainment, and lifestyle companies build their social and online presence by increasing brand visibility. 
One of the cornerstones of ARCG Media's success has been its exceptional partnerships with media and sports organizations. One that stands out is the company's many contributions to SOB: Style of Business The Podcast. Aurelius has been a featured guest on the show several times, sharing valuable entrepreneurial insights and resources. This partnership, among countless others, has contributed to ARCG's long-term growth. Collaborating with like-minded individuals and organizations has been a critical factor in ARCG's ability to stay relevant and innovative.
In celebrating of their remarkable journey, ARCG Media organized an exclusive private event on Sunday, June 18th, 2023, at the iconic Wyndham Garden Chinatown in NYC—the same venue where they Celebrating their inaugural event ten years ago. Attended by 55 individuals, including long-standing clients, partners, industry pioneers, and close friends, the symbolic choice of location for the 10th anniversary filled the air with nostalgia and excitement, reminding everyone of how far they had come and the extraordinary memories they had created.
"I still have the chills from celebrating ARCG Media's tenth-anniversary last month at the same venue where we celebrating our first event, the Wyndham Garden Chinatown in NYC. It has been a fantastic journey being able to do something I love and being able to inspire others along the way," said Aurelius. "This next chapter of ARCG Media is going to be AMAZING! I am excited for more ventures, opportunities, and conversations to be shared. I want the work that I do moving forward to spread hope and inspire people to change their life for the better."
During our recent podcast interview with the mastermind behind ARCG, Aurelius elaborated on the company's inspiring journey, discussing the highs and lows, the challenges and triumphs, and the driving force behind their unwavering passion for their work. The interview offered a glimpse into the ARCG's inner workings and how it has inspired countless individuals.
Aurelius expressed deep gratitude for the support and dedication of his team, clients, partners, and the community. This unwavering support has propelled ARCG Media to new heights and reinforced its commitment to give back to society through various philanthropic efforts.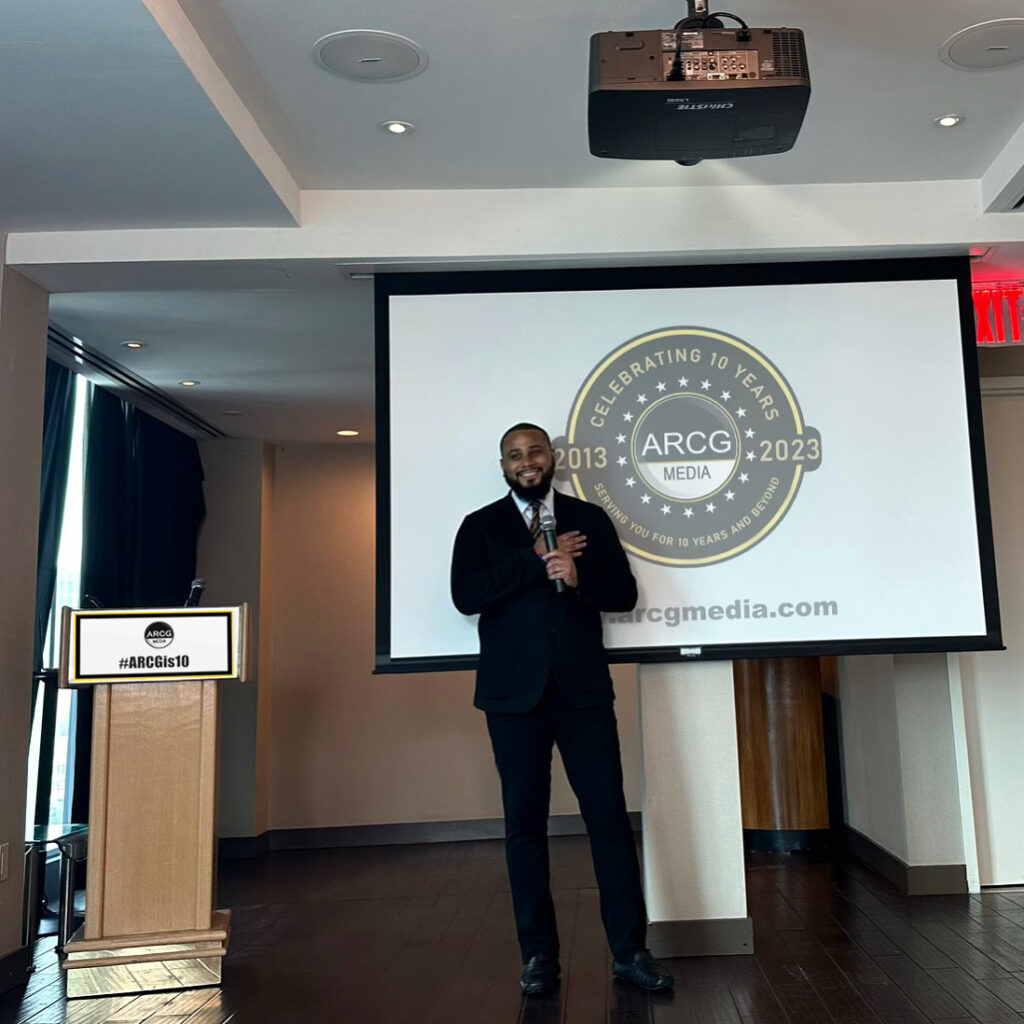 One of the most impactful moments of the interview was when Aurelius shared his vision for the future. He expressed an unwavering determination to make the next chapter of ARCG Media even more extraordinary, reaching greater heights of innovation and creativity. The focus will be on fostering more ventures, exploring new opportunities, and facilitating meaningful conversations that inspire positive change in people's lives.
As ARCG Media Celebrating a decade of excellence, the journey ahead is filled with promise, potential, and boundless opportunities. Their next chapter is destined to be nothing short of AMAZING! With their inspiring vision and the unwavering support of their community, ARCG Media is set to continue transforming lives, and businesses and inspiring positive change for years to come.
For the full podcast interview and more details about ARCG Media's inspirational journey, visit 
Epi 170: Celebrating 10 Years of Service in Media, Sports & Entertainment with Rob Aurelius
. Here's to 10 years of inspiration and a future filled with success!