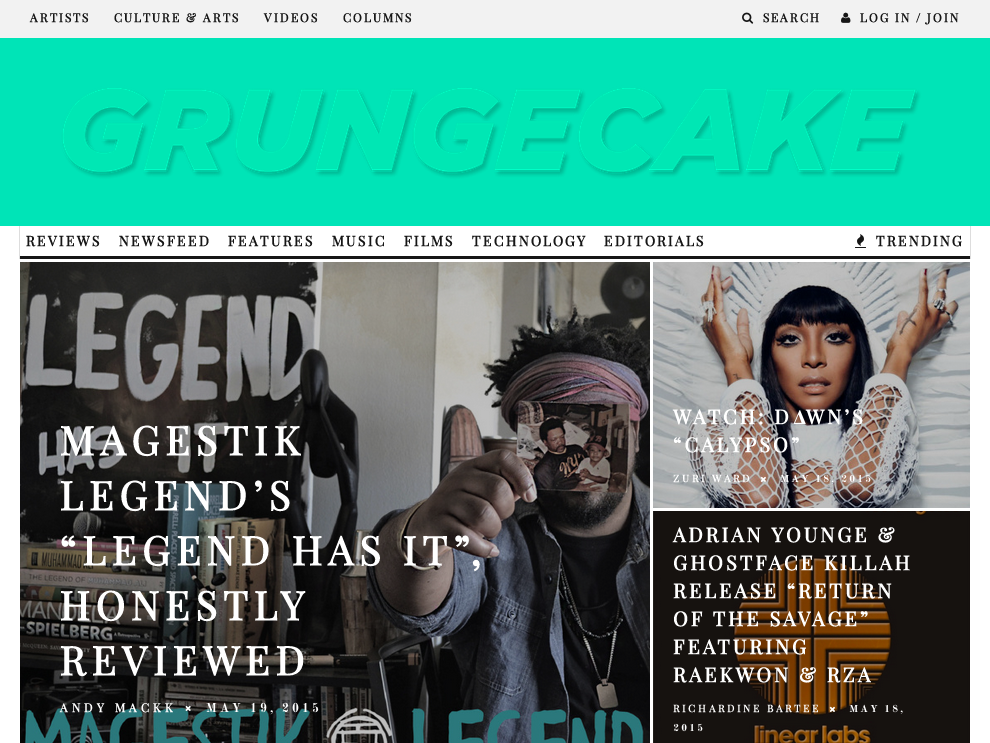 Technology, trending music and the tragically hip editorials that many are interested in is what GrungeCake has been wonderfully doling out the last time we took a look. Popcan Bonds, Blitz The Ambassador, and Dawn are all in the latest issue of this slick publication that was conceived by creator Richardine Bartee 12 years ago. A true authority on all different kinds of acts, fashion, acts of prowess and humility among artists, and a vibe that surpasses the simple "urban" spectrum, GrungeCake is rolling dominantly across the digital landscape larger than ever. A variety at large collective of reviews, artist management mantras, and presentation of art, people are no doubt paying attention to the diverse and iconic platform.
Recently tweeting that she was delighted about a pair of Vans she received and excitement about teaming up to create a girl powered playlist for Cherrybomb Music, Richardine is an avid personality that has interviewed some of the hottest talent on the globe. With a very targeted and specific taste, this online publication is supportive to artists and cultivates a rich style with just a touch less bling than the other mags and blogs out there.
This month on Instagram The Black Opera claimed that she has been "reppin since conception", and praised Richardine for her business sense and overall evolution. GrungeCake itself had its humble beginnings as a sparsely circulated twice yearly publication, and now is a full time media offering with coverage of this year's Cannes event, just for starters. A Mad Max review, a feature on Express accepting Apple Pay, and an article on Beats By Dre's latest collaboration with MCM are all presented with sharp clarity and wit in the latest written pieces.
The show "Shark Tank" has become wildly popular; it's premise is all about up and coming entrepreneurs making the ultimate pitch for cash to investors. In her pitch on the program, Richardine suggested a service crafted to bring back some better fundamentals and credibility to the music industry as a whole, that has been suffering a chiseling away at its image over the last decade. Also helping out in the testing of "Audibase," she tests it out for overall ease of use and debugging; after a few more rounds of investment this will surely be a sweet thing in the industry. A format for sharing longer clips of audio on blogs, websites, and the like, she absolutely recognized the promise and potential of the service that's still at the drawing board.
Flashback Fridays, awesome playlists, songs of the day, and very introspective reviews are all offered in the music section. Fully pulling off the ability to give news, provide true insight, and upper caliber opinion of what's going on in the music realm, the overall vibe of GrungeCake is a bit more durable and deep than some. Not possessing the fully plastic theme and presence that some online forums have, there's a bit more raw goods and catchiness here, much like the way that "Vice" lays down the law. To the point grit and advice within track reviews such as "Would I buy it? no. Should you buy it? If you want to" lean towards the brief, not heady opinions that many are looking for in today's internet world. What we really commend GrungeCake and Richardine  for is following through on vision; as a child she wanted to do interviews and publicity for figures in entertainment & music. Her vision and success is refreshing as ever, and now she's the purveyor of an internet hive of pleasantly hip, and skillfully entertaining content.