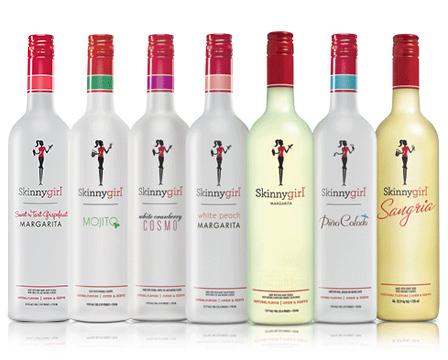 This ready to drink assortment of cocktails was started 4 years ago, by Bethenny Frankel. Two years later, the brand was sold to the booze giant Beam for what was reportedly an epic sum of money. In 2012, it was reported that sales climbed 400%. This is truly newsworthy, for anyone in the realm of cocktail marketing, or marketing period. As we researched comments and opinions on the web, the taste of their flagship drink, the skinny girl margarita, was not as sickeningly sweet as some other brands out there.
As we peeked at their social media pages, we noted some trademarks of their logos and some key things that may have boosted their brand so high in today's over competitive, shark filled tank of marketed drink products. Being endorsed by the Bravo network did not hurt; at a time when people were cutting the cable and going strictly to internet Bravo still had a huge female demographic pull.
First of all, the logo on the Twitter site has a very distinct and voracious red behind the circle that is almost reminiscent of a polka dot dress; or something billowy and easy. It almost conveys a hammock or fresh linen, then inside the circle is the woman with a black dress, red top, and holding out a cocktail in her left hand. One of the most ingenious things done with Skinnygirl marketing is the portrayal of the skinny girl herself. Yes, she is very thin, but the ponytail and the very simplistic portrayal was decidedly not high maintenance; it was almost a "sensible Sally" looking girl, maybe a step away from a librarian, not a runway walking catty type donna.
In 2011, it is said this company sold 586,000 cases of their liquid, low cal ware. One of their only minor hiccups in their branding journey was when Whole Foods stopped carrying the line because of a preservative that did not meet their standards for pre-inspection. This was definitely noted in a shaky economy, but for many reasons, sales of vodka were up. Skinny Girl has a line of wines as well, a very savvy move for anyone in the lovable liquids line of work. Part of the success of the line is no doubt the creator had already written books about attaining skinniness.
In 2009, she released The Skinny Girl Dish: Easy Recipes for your Naturally Thin Life. Drinks like White Cranberry Cosmo and Pina Colada added to the appeal and selection of the line as well. The cucumber, Island coconut, Tangerine, original margarita, and bare naked are vegan friendly as well, a huge plus in the current climate. Once laughed at, the vegan lifestyle is no longer a laughing matter, with tons of people following the footsteps of a healthier choice in what they pour down the hatch; and always being happy to stay skinny.