In March, I had the pleasure of interviewing Stacy Zeal, a wellness coach specializing in cannabis and the host of "High on Self Care" Podcast. If you missed the interview you can check it out here: Epi 141: Cannabis & Self-Care with High On Self Care Podcaster Stacy Zeal.
Today, Stacy shares more of her story on creating a mindfulness practice using cannabis and how she is helping others create and prioritize their self-care routine.
Hey Stacy, thanks for the interview! Tell us about your wellness journey. How did it influence the launch of the High of Self Care Podcast?
My cannabis wellness journey started with me falling asleep driving after years of ignoring my sleep problems. I have insomnia and for years I ignored it to the point where I fell asleep driving one time and that was my wake-up call. I decided to use that time to really take my sleep problem seriously so I started to Google all the things and try all the things. After trying everything from melatonin to cutting caffeine to sleeping pills and nothing working, I decided to try cannabis and that changed my life.
Cannabis is the only thing that consistently helps me sleep and after I fixed my problem I realized that I can help other people so I started a blog and a podcast where I talk about cannabis as self care.
Can you tell us more about Mary Zeal and the different services you offer?
Mary Zeal is a community mainly for women of color looking to get education, inspiration, and encouragement about using cannabis and self-care to live their best abundant lives. We offer education and product recommendations for things like CBD and any other cannabis and self-care related things you may need for your wellness journey. 
How do you prioritize your mental health? How has including cannabis in your self-care routine helped you be more mindful?
I prioritize my mental health by starting my day with my self-care and cannabis-infused morning routine and ending my day by getting plenty of restful sleep. My morning routine includes cannabis, yoga, and meditation and it really helps me to start the day with gratitude and feeling grounding in my purpose. 
Including cannabis in my self-care helps me to be more present, calms my mind, makes me feel more centered throughout the day.
In launching your business, what are some of the challenges you've had to overcome? How have you stayed motivated?
In launching my business some of the challenges I've had to overcome are really self-inhibiting challenges so things like perfectionism and imposter syndrome. The way I stay motivated is by reminding myself of why I launched this business, how much cannabis has helped me, and how much joy I get out of shifting someone's perspective about the plant.
What's one idea or resource you'd suggest to other creatives and entrepreneurs?
One idea I would suggest for other creatives and entrepreneurs, especially the multi-passionate ones like myself, is to batch your content. The way I say on top of my weekly podcast is by blocking off specific time during the month to record all of my episodes for the next month or to create content for the next month. That helps me to meet my deadlines and stay consistent.
About Stacy Zeal
As the CEO of MaryZeal.com and host of the High on Self Care Podcast, Stacy Zeal is on a mission to help women of color live their best abundant lives by creating a mindful cannabis practice.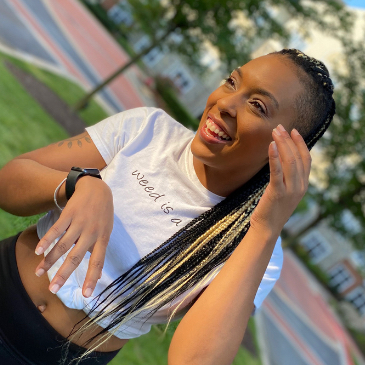 Cannabis literally changed Stacy's life by becoming her only consistent solution for her insomnia. After being prescribed sleeping pills that only worked for 2 weeks, she turned to cannabis while living in Las Vegas and it has been the only thing that consistently helps her sleep peacefully every night. Getting consistent sleep has been a game-changer creating the energy needed to live the life that she desires. 
As a yoga teacher and self-proclaimed high functioning stoner, Stacy understands that combining the amazing benefits of self-care with the uplifting benefits of cannabis leads to a deeper connection to self. 
Connect with Stacy
Website: MaryZeal.com | High on Self Care Podcast
Links to socials:
Keetria is an entrepreneur, wellness advocate, and brand strategy coach for creatives & entrepreneurs with 16 years of public relations expertise working with some of the world's leading brands, startups, media personalities, and entertainers. If you would like to work together, don't hesitate to reach out!