The Brief
Entrepreneur and marketing consultant Keetria Garner-Chambers has 16 years of public relations expertise working with some of the world's leading brands, media personalities, and entertainers. Former Managing Director of the AMW Group, she is currently the host of Style of Business (SOB) on Apple Podcasts and is the CEO of Hypursuit, Inc. and Style of Business (SOB) Coaching & PR Advisory. Also, a certified personal trainer, Keetria's deep passion for wellness, vision, and purpose is unveiled in her latest book, Courage is a Muscle—now available on Amazon.
Professional Background
PR & Marketing advisor and small business advocate, Keetria Garner-Chambers offers strategic insights into branding and publicity across multiple industries and within the entrepreneurial & small business communities. Her strategies have delivered unparalleled exposure, publicity, and customer engagement for everything from branded events to international product campaigns to small business launches.
Former Managing & PR Director for AMW Group, she has managed marketing campaigns for artists, labels, and notable brands nationwide. She has secured media placements for her clients in major outlets like HuffPo, LA Times, The Fader, Newsweek, Great Day Houston, Billboard, ELLE, BeautyLook, Complex, Chicagoist, Elite Daily, US News, Essence, Rolling Out, Examiner, FitnessRX, Atlanta Magazine, Flair Magazine, Westword, Time Out, RESPECT, SLUG Magazine, and countless others.
With a wealth of experience and expertise, Keetria knows what it takes to market big lifestyle brands (Here's a brief mention from Time Doctor and in the Forbes article, Three Ways To Build Brand Loyalty, by contributor Ryan Westwood)…and she brought that expertise to the small business community in the form of her consulting venture: Style of Business LLC. Her brand marketing insight has also been included in several online blogs and in publications such as Luxury Daily.
Inspired by her podcast, Style of Business (SOB), a project that features business owners and entrepreneurs focused on building their brands, SOB assists clients with growing their businesses through strategic planning and brand marketing to increase sales, visibility, and consumer engagement. It's something she has been doing quietly behind the scenes for years and is now bringing front and center.
She is also the Founder & CEO of HyPursuit, Inc., an online media outlet and printed monthly resource focused on entrepreneurship, self-activation, and creativity. The portal seeks to offer an accessible, regionally focused platform for sharing compelling stories of personal inspiration and social innovation across arts, entertainment, lifestyle, and culture.
Expanding into print media as well, she has published several ebooks dedicated to online marketing and branding, including Building Your Online Presence: A Guide to Do-It-Yourself Marketing in 2009 and Style of Business: Tips & Ideas on Creating an Irresistible Brand in early 2015. Keetria holds a Bachelor of Arts degree in Communication from the University of Texas at Arlington.
Courage Is A Muscle: Using Heart to Power Your Entrepreneurial Dream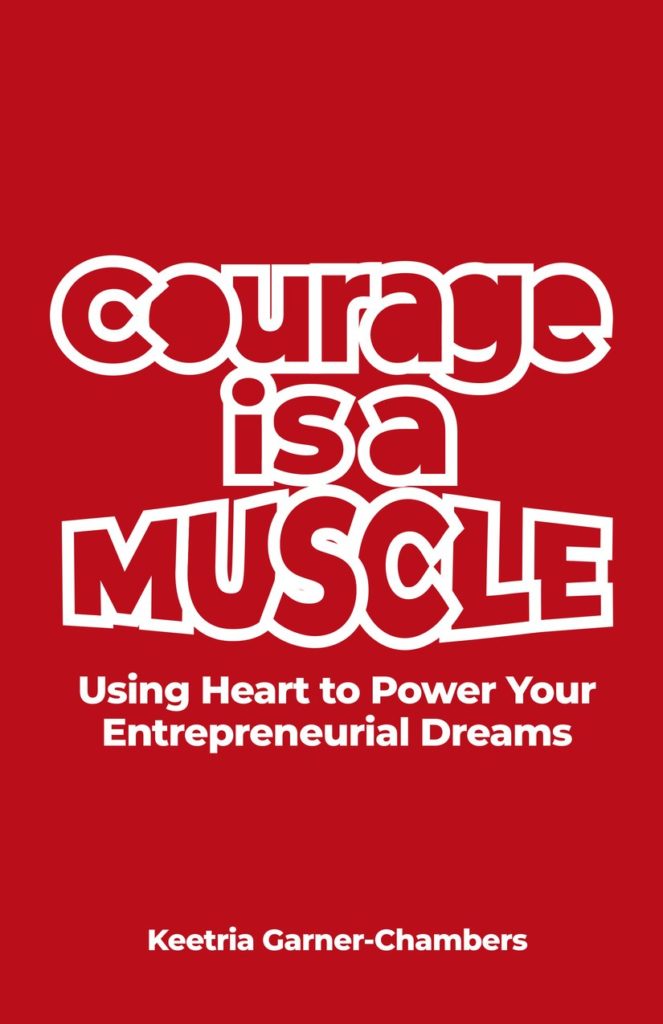 Courage Is A Muscle will motivate all in search of a passion for growth while reading her story and serves as a genuine reflection of lessons learned. Most importantly, it will provide the reader with a gentle reminder that we must all have a passion for what it takes to grow and move forward into the next chapter of life. So often we sit and look at our journey or whatever the goal is that we have set for ourselves, but we do not move on towards the goal. Keetria's testimony reminds us that we must face our journey and "go." Grab your copy on Amazon: https://buff.ly/2wi3U1w